---
COOKIE POLICY
What are cookies?

Most websites record small amounts of information about your activity on the site. This information is in the form of a small text file and is known as a cookie. This is stored on your device.

As we are always looking to give you the best possible experience, our site runs optimally with cookies enabled. They allow us to remember you when you return to our site as well as identify and resolve errors - giving you a faster, more personal experience. Additional data is only stored if volunteered by you, such as when you provide information through a test drive request.

Cookies can't harm your computer and we take the selection of all the third-party suppliers who may set cookies for marketing purposes very seriously.


Types of cookies used on this website:

The cookies used on this website are based on the International Chamber of Commerce guide for cookie categories. See below for more detailed information:

Category 1: 'Strictly Necessary' cookies

These cookies are essential in order to enable you to move around the website and use its features, such as accessing secure areas of the website. Without these cookies, services you have asked for cannot be provided.
This website uses 'Strictly Necessary' cookies which affect pages such as contact page. This information is automatically deleted at the end of each session.

Category 2: 'Performance' Cookies

These cookies collect information about how visitors use a website, for instance which pages visitors go to most often, and if they get error messages from web pages. These cookies don't collect information that identifies a visitor. All information these cookies collect is aggregated and therefore anonymous. It is only used to improve how a website works.

Category 3: 'Functionality' cookies

These cookies allow the website to remember choices you make (such as your user name, language or the region you are in) and provide enhanced, more personal features. For instance, a website may be able to provide you with local weather reports or traffic news by storing in a cookie the region in which you are currently located.

These cookies can also be used to remember changes you have made to text size, fonts and other parts of web pages that you can customize. They may also be used to provide services you have asked for such as watching a video. The information these cookies collect may be anonymized and they cannot track your browsing activity on other websites.
Category 4: 'Targeting' cookies or 'Advertising' cookies

These cookies are used to deliver adverts more relevant to you and your interest. They are also used to limit the number of times you see an advertisement as well as help measure the effectiveness of the advertising campaign. They are usually placed by advertising networks with the website operator's permission. They remember that you have visited a website and this information is shared with other organizations such as advertisers. Quite often targeting or advertising cookies will be linked to site functionality provided by the other organization.


Disabling cookies

You can decide whether you want cookies set on your device, but the site works optimally with all cookies enabled. Your cookie settings can be controlled and changed within your web browser preferences.

Select the web browser you're using below for information on amending your cookie settings.


If you do deactivate cookies it may mean some of the website features become disabled. Even with all cookies disabled, a tiny amount of information will continue to be retrieved from your web browser. This information is necessary for the basic functioning of our website.



PRIVACY POLICY

Pecce.com has created this privacy statement in order to demonstrate its firm commitment to privacy. The following discloses the information gathering and dissemination practices for this web site.

Information Automatically Logged
We use your IP address to gather broad demographic information. Your IP address is also used for other purposes. These other purposes include generation of traffic statistics.

Advertisers Pecce.com works with third party companies to serve ads on this site. These companies may use non-personally identifiable information (not including your name, address email address or telephone number) about your visits to this and other Web sites in order to provide advertisements about goods and services of interest to you. These companies typically use a cookie or third party web beacon to collect this information. While we may use cookies in other parts of our web site, cookies received with banner ads are collected by our ad company, and we do not have access to this information. To learn more about this behavioural advertising practice or to opt-out of this type of advertising, you can visit networkadvertising.org. Registration Forms
This site's registration form requires users to give contact information (like their name, email, and postal address), unique identifiers (like their social security number), and demographic information (like their zip code, age, or income level).

Contact information from the registration forms is used to get in touch with the customer when necessary.

Demographic and profile data is collected at this site
This data is used to tailor the visitor's experience at the site, showing them content that they might be interested in, and displaying the content according to their preferences.

External Links
This site contains links to other sites. Pecce.com is not responsible for the privacy practices or the content of such Web sites.

Special Relationships
This site currently has no special relationships with other sites.

Public Forums
From time to time this site may make chat rooms, forums and, message boards available to its users. Please remember that any information that is disclosed in these areas becomes public information and you should exercise caution when deciding to disclose your personal information.

Security
This site has security measures in place to protect the loss, misuse, and alteration of the information under our control. All such information is stored on servers with encrypted password access.

Data Quality/Access
This site gives users the option to change and modify information previously provided by making contact through the details below.

Contacting the Web Site
If you have any questions about this privacy statement, the practices of this site, or your dealings with this web site, you can contact:
info@pecce.com
Conozca a
PECCE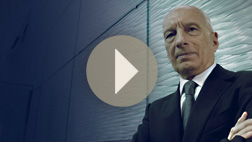 Hijo de una humilde familia italiana, Pecce fundó hace 40 años Wall Street Institute, la institución más prestigiosa de enseñanza de la lengua inglesa. Pecce dedica su creatividad y visión a compartir lo que ha aprendido como empresario y como persona.
PARTICIPE
Regístrese para conocer las últimas noticias
IR